Father and Son Killed When Drunk Driver Hits Golf Cart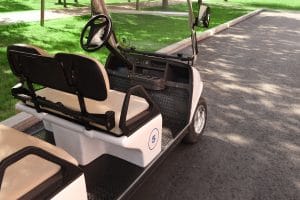 A recent accident in Statesville left two dead and four critically injured when a suspected drunk motorist crashed into a golf cart, according to authorities. The fatalities included a 39-year-old man and his five-year-old son. The driver of the car was not injured, and was arrested and charged with DWI as well as five felony counts.
WCNC Charlotte further reports:
Four passengers on the golf cart, ages 2, 13, 16, and 26, were critically injured and transported by medical helicopters to Atrium Health Carolinas Medical Center in Charlotte and Wake Forest Baptist Medical Center in Winston-Salem, troopers reported.
Officials said the driver of the Honda… was not injured. Harmon was arrested and charged with driving while impaired, two counts of felony death by vehicle, and three counts of felony serious injury by vehicle.
Golf cart accidents don't only happen on the golf course. Here in the Charlotte area, many communities allow residents to travel around using golf carts on some streets and roadways. However, when motorists fail to respect the rights of these vehicles, they can cause serious and tragic accidents. Children, too, are experiencing a higher rate of injury from golf cart accidents every year.
Children and golf cart accidents
In October 2021, the Children's Hospital of Philadelphia (CHOP) released a study about golf cart-related injuries in children. They found that the number of annual injuries has increased from 5,490 in 2010 to over 6,500 in 2019 – a significant jump in accidents. Said study author Theodore J. Ganley, MD:
As motorized golf carts have become more widely used at a variety of events, including sports games, festivals, and concerts, so too have golf cart-related injuries in children. This research highlights the need for safety education around the risks golf carts pose to children of all ages, so that we can prevent such injuries from happening in the future.
Some of the data uncovered by researchers at CHOP include:
Half of reported golf cart accident injuries occurred in children aged 0 to 12 years old
Boys are more likely to suffer injuries than girls
Most injuries occurred in the head and neck
Most injuries were fractures and dislocations
Most accidents occurred at a school or sporting event
The American Academy of Pediatrics (AAP) also reports children often experience lacerations, traumatic brain injuries, and soft tissue injuries in golf cart accidents.
Types of Charlotte golf cart accidents
With the summer in full swing and kids on vacation, many families are out cruising around the neighborhood on their golf carts. Reckless and inattentive motorists – or other golf cart drivers – can cause any number of serious or fatal accidents, including:
Drunk driving accidents
Multi-golf cart collisions
Golf cart rollovers and tipovers
Golf cart and pedestrian accidents
Defective roadway accidents
Distracted driving accidents
Golf cart safety for children
Although you can never prevent the actions of a drunk driver or negligent motorist, you can take some steps to help avoid golf cart injuries this summer. The most important thing to remember about golf carts is that, no matter how slow they may go, they are motorized vehicles and should be treated like one. This means the rules of the road apply.
If you're driving a golf cart, remember:
Drivers should be at least 16 years of age
Never operate your golf cart under the influence of alcohol or drugs
Don't text and drive
Drive at a reasonable or posted speed, and adjust for weather or traffic conditions
Brake slowly and cautiously; golf carts don't handle like cars
Avoid sharp turns and steep inclines
Wear your seat belt and ensure your passengers do the same
Avoid transporting passengers under six years of age
Don't allow children to sit in rear-facing seats, as they are more likely to fall out
If you're a passenger in a golf cart, remember:
Keep your arms and legs in the cart at all times
Wear your seat belt
Stay seated and keep your feet on the floor
Don't exit or enter the vehicle until it's come to a full stop
Don't distract the driver
If you're the owner of a golf cart, keep these tips in mind:
Don't make any post-factory modifications to your cart
Ensure you maintain and repair your cart on a regular basis
Don't allow anyone younger than 16 or anyone visibly under the influence of alcohol or drugs to operate your golf cart
Additionally, young children should wear helmets when traveling in golf carts. The dangers of a brain injury from hitting the pavement in a golf accident is the same as from a bike accident – taking the time to put on a bike helmet can save a child from fatal injury.
If your child is injured in a golf cart accident, the Charlotte attorneys at Price, Petho & Associates want to help. Our legal team can launch an investigation into what caused your child's injuries and who was responsible. We hold all liable parties accountable and work to secure compensation for your child's medical expenses, pain, and suffering. Call us today at 704-372-2160 or use our contact page to schedule a consultation. We have offices in Charlotte, Rutherfordton, and Rockingham.