What You Should Know About Bedsores and Nursing Home Neglect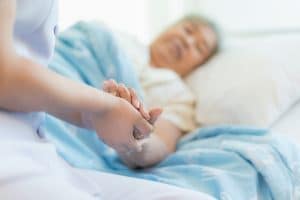 It is a difficult decision to entrust a loved one's care to another person. There may come a time, however, when your family member needs a help and care on call when they need it. Nursing homes, rehabilitation centers, and other long-term or residential facilities owe their patients a duty of care. If they are neglectful or negligent, your loved one's health can be at risk. One such sign of neglect is bedsores.
The Mayo Clinic defines bedsores (also known as pressure ulcers and decubitus ulcers) as skin disorders that may also affect tissue underneath the skin. They usually occur on skin that covers the parts of the body that are bony – such as the hips, ankles, heels, and tailbone – but can develop anywhere. Bedsores can develop in just a few hours or over a few days, due to impaired flow of blood. If the tissue doesn't get enough oxygenated blood, the tissue can die.
People most likely to develop bedsores are patients or residents who spend most of their day in a bed or a chair. While most bedsores heal with treatments, some never completely heal. If bedsores aren't treated properly, they can develop into life-threatening wounds, which can increase the risk of a deadly infection.
How do bedsores develop?
Bedsores are usually due to some type of neglect by doctors, nurses, assistants, therapists, and direct care employees. Neglect is a form of nursing home negligence. Some common acts of negligence include:
Failing to reposition, turn, or relieve skin pressure. Health providers and nursing homes should:

Move the patients/residents regularly.
Provide cushions for relief.
Ensure the patient is properly hydrated and receives proper nutrition.

Failing to ask or look for signs that a person's skin is irritated. Bruising is a sign, as is swelling and tenderness.

Failing to respond to known bedsore conditions. Good hygiene practices, including changing bed sheets, bathing the resident, and giving the patient/resident clean clothes regularly can also reduce the risk of bedsores. Staff and medical personnel should be trained to address these needs.
Some of the known risk factors that should be anticipated and treated include:
Immobility. This can be due to old age, a spinal cord injury, or other causes.
Incontinence. Patients and residents are prone to bedsores if they are exposed to urine or stool for extended periods of time.
A lack of sensory perceptions. Some patients or residents may not sense discomfort or bedsores due to their physical condition such as having a neurological disorder.
Regular attention to a person who is confined to their bed or chair is all that's required to reduce the risk of bedsores, and to ensure that they are caught and treated quickly if they do develop. A few possible precautions include shifting the weight of the patient/resident, elevation of the person in bed, and specialty wheelchairs that allow someone in the wheelchair to be tilted.
What are the complications from untreated bedsores?
The Mayo Clinic identifies the following complications:
This disorder is a skin infection that causes "warmth, redness, and swelling of the affected area." Anyone who has nerve damage may not feel the pain in the area that cellulitis affects.
Bone and joint infections.Bedsore infections can "burrow into joints and bones. Joint infections (septic arthritis) can damage cartilage and tissue. Bone infections (osteomyelitis) can reduce the function of joints and limbs."
Some wounds may develop into a form of squamous cell carcinoma.
It is possible for a skin ulcer to lead to sepsis.
What are the treatment options for bedsores?
The treatments include cleaning the affected area and dressing all wounds. If the wound is significant, the damaged area may need to be surgically removed. One type of surgery, called flap surgery, involves using "a pad of your muscle, skin or other tissue to cover the wound and cushion the affected bone," per the Mayo Clinic. Nonsteroidal anti-inflammatory drugs may help, as can ensuring that the resident eats a healthy diet.
When do bedsores justify a nursing home abuse claim?
Hospitals and nursing homes owe a duty of care to their patients and residents. You may have cause for a nursing home abuse claim if the doctors, nurses, and/or staff:
Fail to anticipate or diagnose a bedsore.
Fail to follow common safety protocols such as routine examinations to inspect for bedsores.
Fail to treat a bedsore properly and in a timely manner.
Our skilled Charlotte nursing home abuse lawyers understand the standard of care that applies to administrators, physicians, nurses, and nursing homes regarding the proper treatment of bedsores. We work with gerontologists and other doctors skilled in treating older and confined patients at risk of bedsores. We also work with doctors who specialize in the treatment of these types of wounds.
When bedsores occur due to nursing home negligence, we demand compensation for the resident's:
Medical expenses, including any surgeries, doctor visits, rehabilitative therapy, assistive devices, and medications.
The pain and suffering of your loved one.
Any other damages that may apply.
Funeral and burial costs if your loved one dies from complications related to bedsores.
At Price, Petho & Associates, our Charlotte personal injury lawyers work with a network of healthcare providers, including doctors who understand why bedsores occur and why nursing homes should be held accountable. We also understand federal and state nursing home laws. We have a strong record of success obtaining jury verdicts and settlements for our clients. To discuss any type of medical malpractice claim, call us for a free consultation at 704-372-2160 or fill out our contact form. Serving Charlotte, Rockingham, Rutherfordton, North Carolina, and South Carolina.