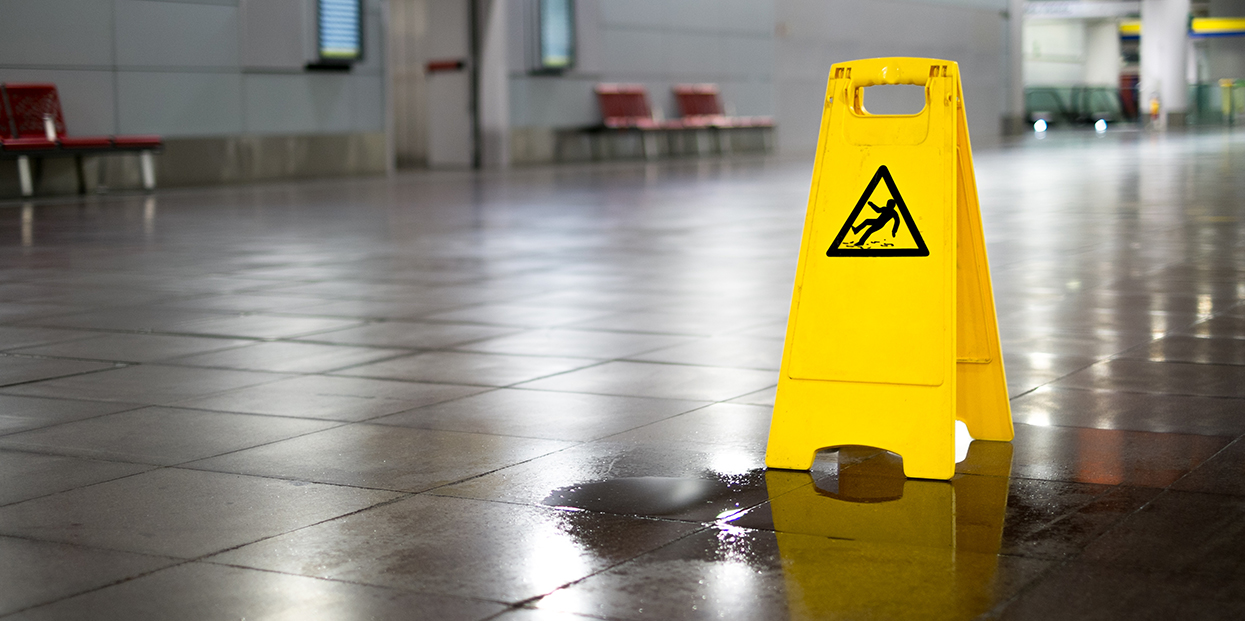 Rutherfordton Slip & Fall Accident Lawyers
Strong advocacy for victims of slips, trips, and falls in North Carolina
The Rutherfordton slip and fall accident attorneys at Price, Petho & Associates know that these accidents can result in significant injuries or possibly the tragic death of a loved one. Our lawyers fight to show the property owner was responsible. We work with you and your doctors to show how your injuries are costing you money and affecting every aspect of your life. We fight to get the maximum compensation for our clients.
How can we help?
Why should I hire a Rutherfordton slip and fall lawyer?
A slip and fall can lead to serious – even permanent – injuries. A Rutherfordton slip and fall lawyer can help present your case to a jury or in settlement negotiations to show that you were not at fault and deserve compensation for the injuries you sustained.
Imagine are on your way to work and you decide to pop into Ingles Market to grab something for lunch. You're walking down the aisle when you get a text notification from your friend. Your attention is now completely on your phone – which is fine because you've been in this store hundreds of times and know exactly where you're going.
What you don't know is that the freezer case on the end of the aisle has malfunctioned and the melting ice has leaked out creating a huge puddle on the floor. As you come around the corner, you are engrossed in your friend's text and don't see the puddle. The next thing you know you are falling, you feel a sharp pain in your head, and everything goes black.
Meanwhile, the store manager had seen the puddle and was on his way to find someone to clean it up. Then he saw his buddy who drives a delivery truck, and he got sidetracked discussing the football game. You wake up in the hospital and you learn you have a significant head injury.
As you can see, there are a lot of factors that go into the cause and result of this accident, which is why you want an experienced Rutherfordton personal injury attorney on your side. Slipping, tripping, and falling does not lead to "minor" injuries; they can affect you for the rest of your life.
What duties do property owners in Rutherfordton have?
The law expects people to behave reasonably. Under North Carolina's premises liability laws, a property owner has to provide you with a reasonably safe shopping or customer experience.
When you enter onto the property of another for the purpose of doing something that would benefit the property owner you are an "invitee" – you have been invited onto the property. If the property owner fails to make the property reasonably safe for you, and you are injured because of it, you can hold the property owner responsible If the owner is aware of a known danger, the owner has the responsibility of warning you about the danger.
Property owners also owe people who have permission to be on the property (licensees) a duty of care. For example, your neighbors must shovel any snow promptly, so you don't slip and fall – even though they didn't invite you onto their property.
Invitees and licensees do have some responsibility for keeping you out of harm's way. You are expected to pay reasonable attention to your surroundings and be aware of any obvious dangers.
What steps must a North Carolina property owner or manager take?
Store owners and managers must take reasonable steps to prevent visitors from slipping and falling. These steps include:
Conducting routine inspections to look for wet spots, slippery surfaces, and any condition that might cause someone to fall.
Being extra cautious after it rains. Customers and visitors are likely to track in water from outside. Retail owners, professional office owners, restaurants, and others should use mats and look for puddles after the rain stops.
Warning anyone who uses the property of a spill, a leak, or any wet surface. Owners should also warn customers about broken tiles, loose railings, torn carpets, and any other conditions that might cause a slip and fall accident.
Making timely repairs. Often, it just takes a few seconds to clean a spill or move an object that might cause a fall. When repairs take longer, the dangerous conditions should be off-limits to everyone on the property.
Owners and managers may need to take other steps depending on the type of danger that might cause someone to slip or trip and fall.
What types of injuries do Rutherfordton slip and fall victims suffer?
Victims of slip and fall accidents in North Carolina often suffer injuries that require surgery and/or long-term rehabilitative care. We handle all serious injuries including:
Traumatic brain injuries and head trauma
Spinal cord damage and/or paralysis
Broken hips, legs, arms, and other parts of the anatomy
Soft tissue injuries
Back injuries
Muscle, tissue, ligament, and nerve damage
Sprains, cuts, lacerations, and puncture wounds
Internal bleeding and internal organ damage
Scarring and disfigurement
We work with your medical team to understand what medical care you need, what injuries are permanent, and how your injuries affect every part of your life.
We file wrongful death claims when a loved one dies due to a slip and fall accident, such as if your loved one hit his/her head when falling, or if he or she fell from a great height.
Why do slip and fall accidents happen in Rutherford?
Slip and fall accidents may happen if:
Food or drink spills, and the property owner has enough time to know of the spill and neglects to clean it.
Railways, escalators, and railings are not secured or working properly.
Floors have defects such as broken tiles or parts of the carpet that are torn.
There is poor or inadequate lighting.
There is merchandise, tools, or debris on the floor.
There are slippery surfaces due to rain or snow.
How do our Rutherfordton slip and fall lawyers fight for you?
We use many methods when slip and fall accidents occur to show the property owners caused your injuries. Some of these methods include:
Inspecting the accident site
Questioning any witnesses and all the defendants
Reviewing all relevant records including prior complaints, notice of building code violations, and other information
Examining what warnings were given, if any
Reviewing the maintenance records
Reviewing any repair reports
Our lawyers are skilled at showing property owners put their profits ahead of your safety.
Who is liable for a Rutherfordton slip and fall accident?
Our Rutherfordton slip and fall lawyers understand which defendants are liable for the accident that caused your injuries. Defendants may include:
The owner of the property or other responsible companies – including parent companies and tenants
Maintenance companies
Repair business
Security companies
What is my slip and fall claim worth?
Our Rutherfordton slip and fall lawyers demand compensation for all your damages – including damages that last a lifetime. We demand payment of all your medical bills and lost income. We also demand defendants pay for your physical pain, emotional suffering, any scarring or disfigurement, inability to work or enjoy life, and loss of consortium damages.
In cases of willful or wanton negligence, we seek punitive damages.
When should I file my slip and fall claim in Rutherfordton?
The longest you can wait to file a claim is three years from the date of the accident. The time limit is just two years if a loved one died.
Don't wait. We need to examine the accident site and speak with witnesses as soon as possible.
Do you have a slip and fall accident lawyer near me?
At Price, Petho Associates, we meet clients at our Rutherfordton office located at 224 N Main St. Rutherfordton, NC. Our lawyers also have offices in Charlotte and Rockingham. We meet clients away from the office when necessary.
Our Rutherfordton slip and fall accident attorneys are ready to help you now
At Price, Petho & Associates, we are on your side. Our Rutherfordton slip & fall accident lawyers anticipate the arguments insurance companies and defense lawyers make. We have been fighting for personal injury clients since 1979. We'll assert your rights and guide you through the litigation process. We're always ready to represent you in court. Contact us today by completing our form or call us at 704-372-2160 for a free consultation.